Thinking about an exotic location for your wedding?
Weddings are a special time in anyone's life and so it's important to mark the occasion with an experience that is as memorable for your guests as it is for you. Since travel and holidays are at the top of the list of memorable experiences for most people, why not make your wedding absolutely unforgettable by choosing to marry in an exotic location?

STOP PRESS:
Planning and booking your wedding and honeymoon with us means that you will be dealing with 'Travel Agency of the Year 2013' as voted by the Weddings and Events of Australia (WEOA). In September 2013, Pure Travel won the inaugural Award for Excellence in the Best Travel Agent Category. We are proud to have been nominated and thrilled to have won but for us the only award that counts is your testimonial when you return from your wedding and/or your honeymoon. Mushy but true!
Your own personal wedding planner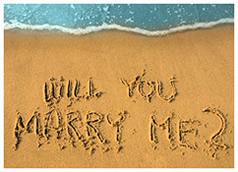 Most people are aware of the immense planning that is required to organise a wedding. There's just so much to do. These days the responsibility of planning a wedding often falls to the bride and groom who more often than not work full time and have little spare time to plan an event that's as big as Ben Hur. So by the time the big day arrives, you're so frazzled by the sheer volume of work, that it can be a challenge to actually enjoy your own wedding.
And that's just a regular wedding! If you're planning an overseas wedding or flying guests in, the work and stress is multiplied. Of course it all sounds impossible but it's not. You simply need some help. Most people would get a wedding planner to take care of their wedding arrangements if only they could afford it. But what if it didn't cost you a cent? Sounds too good to be true, doesn't it?
When your book your overseas wedding with Pure Travel that's in effect what you get – a wedding planner. Pure Travel have arranged many overseas and interstate weddings and coordinated group bookings for as many as 500 people. Planning a wedding is a fairly straight forward process for us because we do it all the time and when you do something all the time, you tend to get pretty good at it.
Here are just some of the things we can arrange for your wedding:
Venue hire
Ceremony and reception
Bridal registry
Catering
Flights
Transfers
Cakes, flowers etc.
Room bookings
Honeymoon holidays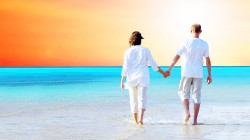 While your wedding is an opportunity to celebrate your union with friends and family, your honeymoon is an opportunity to spend time with each other doing whatever it is you like to do together. Of course the interests of couples are varied and so to cater to your specific tastes it's important to find a travel agent that is abreast of all travel styles and experiences.
All Pure Travel advisers live for travel. When we're not working we're travelling and between us we have very different travel interests including adventure, thrill seeking, hiking, safaris, cruises – and that's just the tip of the ice berg. Whatever holiday you choose for your honeymoon, one of our travel advisers has probably done it.
That said many of our honeymooning couples want nothing more than just being together in paradise. Tropical islands are hard to beat when it comes to the ultimate romantic setting: perfect weather, palm trees, squeaky white sand and crystal clear water. Some of our more popular tropical island destinations include Phuket, The Maldives, Fiji, Cook Islands, Whitsundays and Hawaii. We also have expertise in Las Vegas Weddings, having organised beautiful ceremonies for couples with no guests and over 100 guests.
And if you've blown most of your money on the wedding, don't worry. Our travel advisers will work with even modest budgets to makes sure you don't miss out on that special honeymoon experience.
At Pure Travel, if we can't be travelling ourselves we like to live through the travel experiences of others. Don't be surprised if we get every bit as excited about your holiday as you do.
So call our office today on (02) 9407 8400 and start getting excited about your wedding and honeymoon.