Cherry Blossoms, also known as Sakura are flowers of the cherry trees grown in Japan.  They have significant cultural importance in Japan as they are considered to be symbolic of renewal and the fleeting nature of life. The blossoms reach their peak at around two weeks and then start to wither and fall.   Flower viewing or Hanami is a huge social affair in Japan where people enjoy food and drinks all while sitting under these beautiful trees. Cherry Blossoms in most places bloom from the middle of March and fall around the first week of April.
There are many places where you can view these beautiful flowers but the best ones according to us are –
Mount Yoshino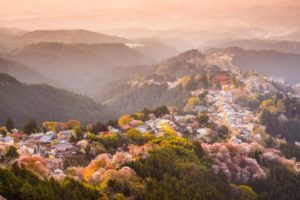 Mount Yoshino is hands down the most popular and the best place for Hanami. Located in the Nara prefecture, Mount Yoshino is located at an elevation and contains around 30,000 Cherry Blossom trees. One thing to keep in mind is that Mount Yoshino is a hot spot for tourists and Japanese people alike, so if you do plan on visiting make sure to book a hotel in advance.
View the best hotels in Mount Yoshino.
Ueno Park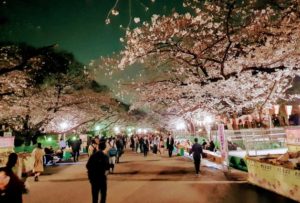 Immaculate gardens and pretty parks are not the first things that come to mind when thinking of Tokyo but this cosmopolitan capital isn't all skyscrapers and robots.  Ueno Park in Japan is one of the most popular spots for Hanami in the city and is home to many cherry blossom festivals as it contains over 1000 Cherry Blossom trees, museums, shrines and plenty of beautiful ponds.  If you do decide to visit Ueno park, another great addition to the festivals is that there is no shortage of food stalls selling delicious street food like onigiri and yakitori.
The Sakura in Tokyo bloom a little earlier than most places so the Cherry Blossom festival in Ueno Park starts from March 23 to April 12.
Maruyama Park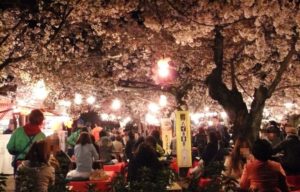 The complete opposite of modern Tokyo, Kyoto is the epitome of tradition in Japan. This ancient city contains elaborate temple and shrines which add to the cultural wealth of Japan.  Maruyama Park is the oldest park in Kyoto and the most popular spot for Cherry Blossom viewing in the city.  The centrepiece of this park is the shidarezakura weeping cherry blossom tree standing in the middle which gets lit up at night. This tree drives a lot of tourists and locals alike to the park.  Many food stalls and temporarily constructed restaurants are put up during Cherry Blossom festivals.
View the best hotels in Kyoto.
Hirosaki Castle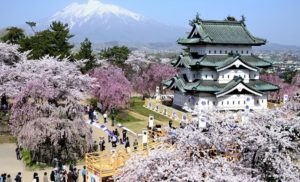 Possibly the most beautiful cherry blossom viewing spot in Japan, this ancient three-story castle built in 1611 provides the best spots to view Sakura.
In the castle grounds, you will find cherry blossom tunnels, petal topped moats, rental rowing boats, many different varieties of cherry trees and a bevvy of picnic spots.
The castle, known for its striking white walls, is the perfect spot for a pleasant evening.
View the best hotels near Hirosaki Castle
Himeji Castle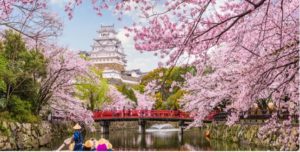 Himeji castle, around a four-hour train ride from Tokyo, provides one of the best seasonal sites for Hanami in Japan. The castle, known for its striking white wooden walls provides a perfect backdrop for the 1000 Cherry Blossom trees on the castle grounds. The castle reopened to the public after years of renovation in 2015.  Entry to the castle grounds is free but there is a fee for entering the inner grounds.  There are Sakura in both the inner and outer grounds.
View the best hotels near Himeji Castle.
Matsumae Park
The spacious Matsumae park contains over a thousand cherry blossom trees of over 250 varieties around the Matsumae castle, the only feudal castle on Hokkaido.  This incredible variety of trees attracts a lot of tourists.  The park itself also contains several Buddhist temples which contain historical carvings which add to the serenity of the park. This park has the longest Hanami season of the others on this list because of the variety of Sakura.
View the best hotels near Matsumae Park.
Philosophers Path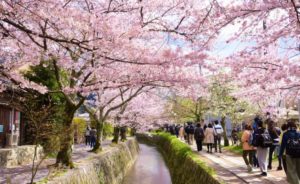 Philosophers path, also known as Tetsugaku no Michi is one of the best spots to view cherry blossoms in Kyoto. The path got its name from a legend involving the philosopher Nishida Kitaro who practised meditation here.  Its a pleasant path that connects the river Ginkauji (Silver Pavilion) within the vicinity of Nanzenji. There are hundreds of Cherry Blossom trees lined around the canal path.
Fuji 5 Lakes
Trees along the northern shore of Lake Kawaguchiko provide one of the best views of Mount Fuji in Japan. These stunning lakes come with a backdrop of Mount Fuji.  To experience this magnificent view you'll have to visit the Volcanic island of Honshu known for its bubbling hot springs.  Note that Mount Fuji is best visible in the morning.
View the best hotels near Fuji
Lake Kawaguchiko
Lake Kawaguchiko is the second largest of the Fuji 5 Lakes.  This lake is beautiful all year round but it truly shines during the Cherry Blossom season.  The best part of the lake is the Hot spring resort town of Kawaguchi. Its located beside the Kawaguchiko music forest and is known for its beautiful view of Mount Fuji and Cherry Blossom trees.
View the best hotels in Kawaguchi
Shinjuku Gyoen
Shinjuku Gyoen, located in Tokyo contains over 1000 Cherry Blossom trees of over a dozen varieties. The huge variety makes the park a great choice for someone wanting to experience a late or an early season as the trees bloom at different times.  The spacious lawn provides a serene, calm and peaceful environment. If you do decide to visit this park, keep in mind that alcoholic drinks are strictly prohibited.
Conclusion
Any place on this list will provide you with the best Hanami experience on your trip to Japan.  Please note that Hanami is very well celebrated in Japan. Tourists and locals alike flock to these places to experience Hanami. If you do want to experience Hanami we recommend you book your hotels well in advance.  Keep up with travel news and alerts.
If you want to find out the best foods and dishes to have while experiencing Hanami click on this link.
Author Name – Paawan Patel